Ernst leads the proposal to unite the Middle East…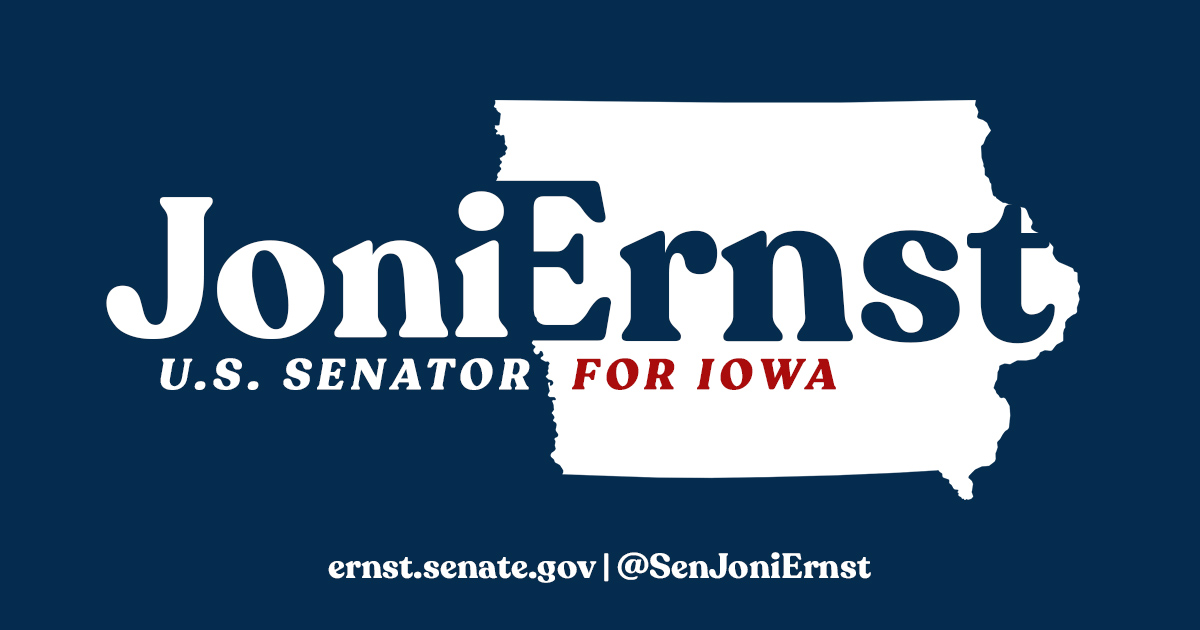 WASHINGTON — In the aftermath of a drone attack on the U.S. consulate in Iraq, likely carried out by Iranian proxy forces, U.S. Sen. Joni Ernst (R-Iowa), a veteran of the Global War on Terror and member of the Senate Armed Services Committee, leads a bipartisan, bicameral effort to develop a strategic approach among the countries included in the Abraham Accords, aimed at combating Iranian aggression in the Middle East.
Today Ernst presented the DEFEND Act (Deterring Enemy Forces and Enabling National Defenses) alongside fellow Abraham Accords caucus co-chairs, Senators Jacky Rosen (D-Nev.), James Lankford (R-Okla.) and Cory Booker (D-NJ). To read the full text of the bill, click here.
For the video of the press event, click here. For photos, click here.
"The full potential of the Abraham Accords, economic cooperation, educational exchanges, trade agreements between Israel and our Middle Eastern partners, cannot be achieved without a commitment to collective security," said Senator Ernst. "America's role in activating and networking our allies and partners in the Middle East must evolve as violent extremists, like Iran, change tactics and integrate new systems capable of causing catastrophic damage against civilian targets. This bipartisan, bicameral effort urges the United States to work with our allies and partners in the region to build an integrated air and missile defense system to address the threat posed by Iran and its violent extremist proxies.
"As U.S. forces and our partners in the Middle East face increasingly sophisticated air and missile threats from Iran and its terrorist proxies, we must act in a coordinated manner to defend against common threats," he added. said Senator Rosen. "Our bipartisan, bicameral legislation will support the Department of Defense's efforts to integrate the defense capabilities of our Middle Eastern allies and partners, including Israel, and leverage their unique capabilities to develop an integrated air defense architecture and anti-missile."
"We cannot hope for peace, we must work to create peace. This is why the Abraham Accords are so critical to the future of the region," said Senator Lankford. "My colleagues and I also want the US Department of Defense to prepare a strategic plan to build integrated air and missile defense capabilities to protect people and infrastructure against persistent threats from Iran. We can and must be smart about the existing realities in the region from Iran, but we must also continue to integrate people and trade in the region towards a goal of lasting peace.
"As missile threats against our partners in the Middle East increase, this bipartisan legislation is essential to ensure the safety and security of the region," said Senator Booker. "Under the direction and coordination of the Department of Defense, this bill will help develop an integrated air and missile defense system that protects civilians and infrastructure from rocket attacks and enhances the defense capabilities of our allies. from the Middle-East. By strengthening and encouraging cooperation between the signatories of the Abraham Accords and other regional partners, this bill will also help foster a more peaceful and stable region.
by Ernst Defense Act would require the Department of Defense (DOD) to prepare a strategy to work cooperatively with Iraq, Israel, Jordan, Egypt, Saudi Arabia, the United Arab Emirates and other allies and partners in the Middle Orient to establish a defense architecture and acquisition approach that would use a combination of air and missile defense capabilities to protect the region from attacks by Iran and Iran-backed extremist groups. Complementary legislation will be introduced in the House by Abraham Accords Caucus Co-Chairs Rep. Cathy McMorris Rodgers (R-WASH.), Rep. Ann Wagner (R-MO), Rep. David Trone (D-MD) and Brad Schneider. (D-Ill.) As well as House Armed Services Committee Representatives Don Bacon (R-Neb.) and Jimmy Panetta (D-Calif.).
Ernst's bill was approved by: ADL; AIPAC; AJC; American Jewish Congress; CUFI share; FDD share; Hadassah, the Zionist Women's Organization of America; JFNA; JINSA; USIEA; and senior Middle Eastern scholars who support this bill in the Atlantic Council.
###