Iran FM calls for concerted efforts to find a political solution to the Ukrainian crisis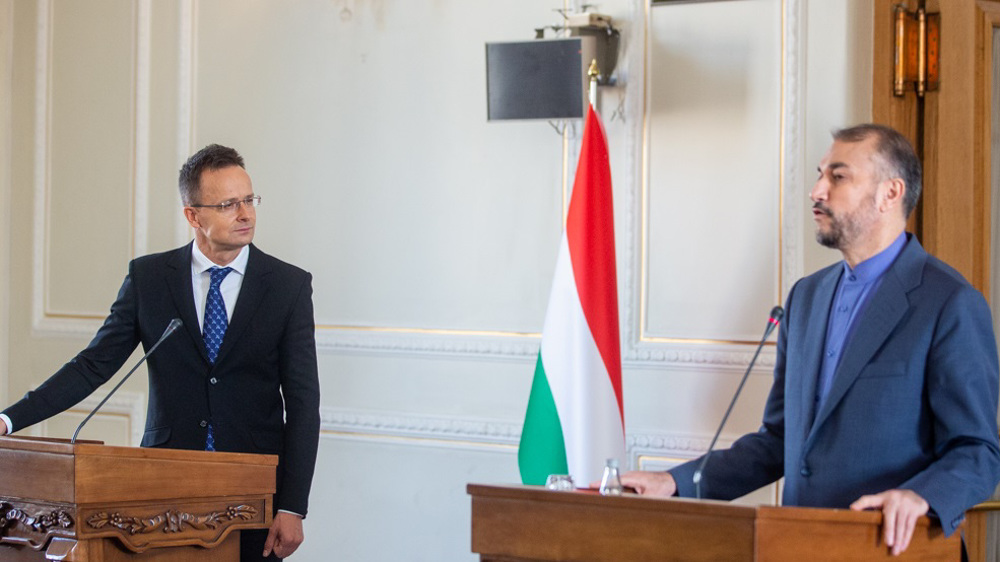 Iran's foreign minister called for concerted efforts to reach a political solution to end the ongoing conflict between Russia and Ukraine, reiterating Tehran's position to reject wars and sanctions.
Hossein Amir-Abdollahian made the remarks during a phone conversation with his Hungarian counterpart Peter Szijjarto, Iran's Foreign Ministry reported on Wednesday.
During the conversation, Amir-Abdollahian referred to the war between Russia and Ukraine and the sanctions imposed by the West on Moscow, saying that the Islamic Republic rejects both wars and sanctions.
He also thanked Hungary for its humanitarian role in facilitating the transfer of Iranians living in Ukraine to Iran.
Russian President Vladimir Putin launched a military operation in Ukraine on February 24 to demilitarize and "denazify" the country. In response, the United States and its European allies launched unprecedented sanctions against Moscow, making Russia the most sanctioned country in the world.
Implementation of bilateral agreements
The two foreign ministers also discussed bilateral relations and the latest developments regarding the Vienna talks on reviving the 2015 Iran deal.
Amir-Abdollahian presented his congratulations on the victory of the ruling Fidesz party in the Hungarian parliamentary elections.
He said Tehran was ready to expand its relations with Budapest and implement the agreements signed during the joint meeting of the economic commission of the two countries in December.
Szijjarto, for his part, invited Amir-Abdollahian to visit Hungary.
He stressed his country's commitment to expanding cooperation with Iran and stressed the need to implement the agreements reached between the two countries.
At the head of an economic delegation, Szijjarto traveled to Tehran last December, where the two parties signed several cooperation agreements.
Iran's constructive approach in Vienna is 'very valuable'
Elsewhere, Amir-Abdollahian reaffirmed Iran's determination to reach a "good and lasting agreement" through the Vienna talks if "the American side is realistic".
Highlighting Iran's initiatives, he said significant progress had been made in the talks, but some issues remained unresolved between Tehran and Washington.
Szijjarto expressed hope that an agreement would be reached through a constructive approach from all parties.
Iran's constructive approach to reaching a final agreement is very valuable, he added.
Negotiations have been held in the Austrian capital since last April to reinstate the Joint Comprehensive Plan of Action (JCPOA), commonly known as the Iran deal, which was scrapped by former US President Donald Trump in May 2018.
By quitting the deal, Trump launched what he called the "maximum pressure" campaign of "toughest sanctions ever" targeting the Iranian economy in order to bring Iran to its knees.
To resist the sanctions, Tehran has adopted a policy of "maximum resistance", which includes the use of national capacities and cooperation with neighbors and allies.