Iranian president to visit Astana on Thursday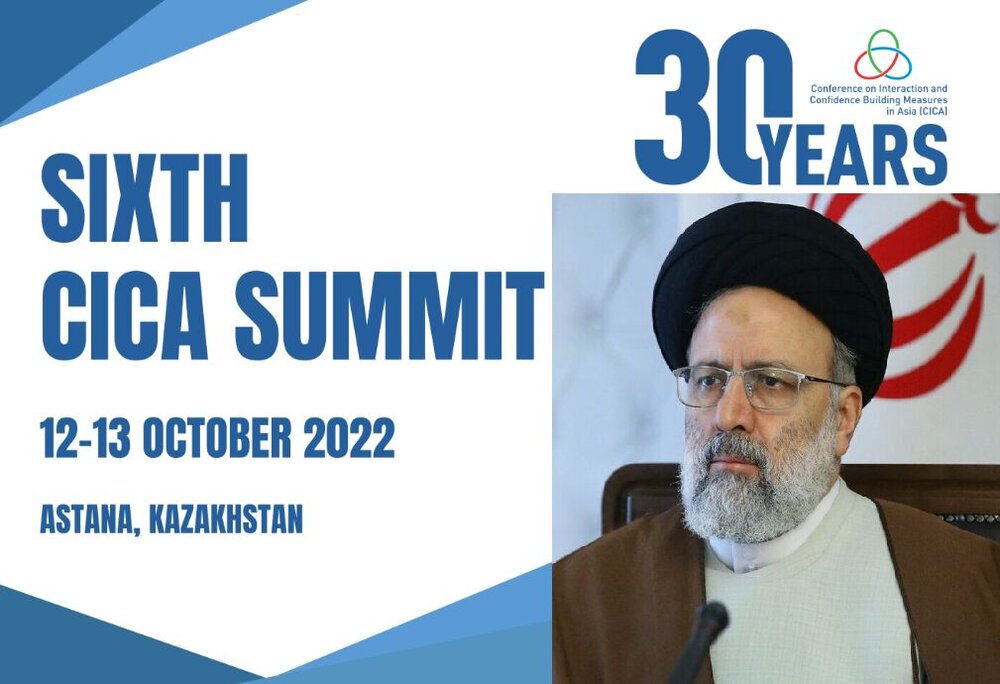 TEHRAN — Iranian President Ayatollah Ebrahim Raisi will arrive in Astana, Kazakhstan, to attend a regional summit aimed at fostering interaction and cooperation in Asia.
President Raisi will attend the sixth summit of the Conference on Interaction and Confidence Building Measures in Asia (CICA) to be held in Astana on October 12-13.
The summit will host 11 presidents from Azerbaijan, Iraq, Iran, Qatar, Kyrgyzstan, Palestine, Russia, Tajikistan, Turkey and Uzbekistan, according to Kazakh media. Belarusian President Alexander Lukashenko will participate as an observer at the sixth CICA summit. The vice presidents of Vietnam and China will also attend the summit.
Nearly 50 delegations from Member States, Observer States, Observer Organizations, Partner Organizations and Guests of the Presidency are expected.
Mohammad Jamshidi, director of the Iranian president's office for political affairs, said President Raisi will arrive in Astana on Thursday for the CICA summit.
"We have had several requests to meet with the president, but due to lack of opportunities, priority is given to heads of countries who have not been met in previous meetings such as the Shanghai Cooperation Organization and the Assembly. General of the United Nations," Jamshidi said. told state news agency IRNA.
Jamshidi mentioned the leaders of Qatar and the Republic of Azerbaijan as personalities who requested to meet Raisi and did not have the opportunity to meet the president during the Shanghai meeting and the General Assembly of Nations. United.
Last August, President Raisi met with the Executive Director of the CICA Secretariat, Kairat Sarybay, in Tehran.
"Iran believes that the dynamism of regional organizations is a very important factor in countering unilateralism," Raisi said during the meeting.
He added, "The Islamic Republic of Iran intends to effectively leverage the capacity of regional and international institutions to defend the rights and interests of independent countries."
During the meeting, Sarybay also expressed hope for the continuation and strengthening of the constructive role of the Islamic Republic in the CICA mechanism to promote peace and security in the region and in the world, adding: "Today asia today has an important role in managing developments, and the CICA seeks to strengthen the role of Asian countries on the international stage.
He added, "The objective of CICA's activities is to enhance the role of Asian countries in solving the continent's problems and to prevent the involvement of non-Asian countries in the developments of this continent."