Iran's Wonderland – Lies, Hypocrisy and Paradoxes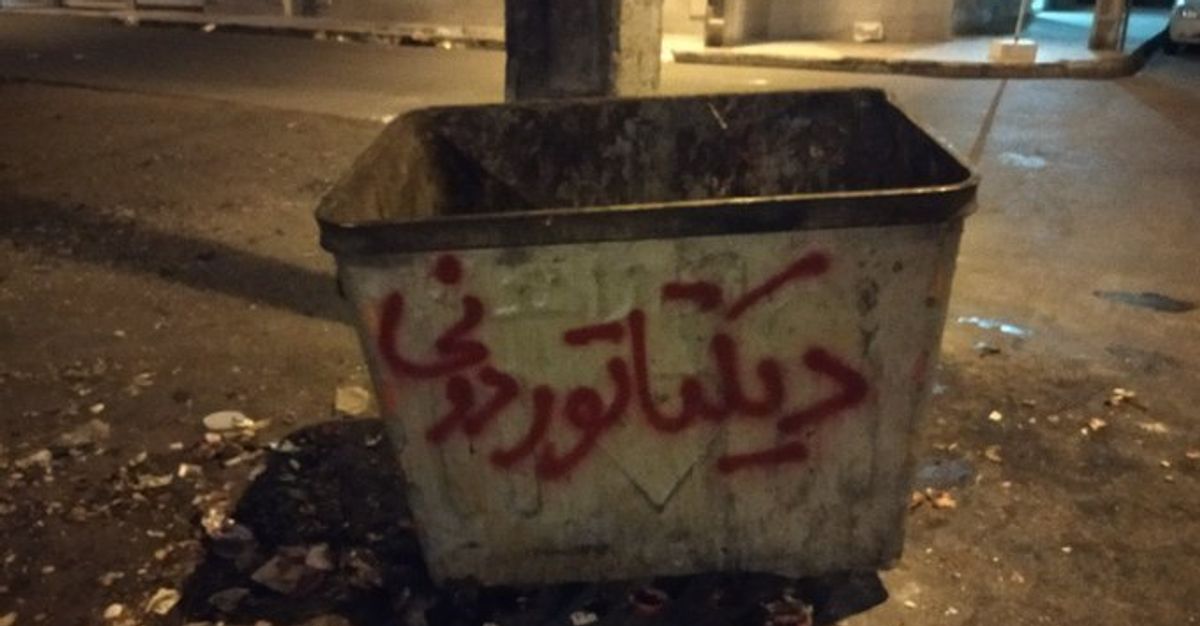 "It's a strange world, my dear," said one of Iran's greatest modern poets, Ahmad Shamlou, when he outlined the paradoxes of post-revolution Iran a few decades ago.
But Shamlou did not imagine in his wildest dreams the paradoxes that characterize Iran in 2022, during its greatest contestation and uprising in its modern history.
A strange world where as soon as night falls, thugs attack residential neighborhoods, where they throw tear gas canisters into apartment buildings while men and women chant the anti-government slogan "Women, Life, Freedom" from their Windows.
In previous centuries, if governments didn't like someone, they sent them into exile to deprive them of the comforts they enjoyed at home. In Iran today, the government prohibits troublemakers from leaving the country.
Hidden under their helmets, heavily armed security forces use megaphones to frighten the inhabitants of apartment buildings in western Tehran by telling them that they are ready to behead their own family members if they need to.
A witty post on Twitter says"Their wives are praying for their husbands to be martyred while their husbands are threatening to behead their wives. It's a domestic quarrel. Why are you shouting it into a megaphone?"
Eyewitnesses on social media report that security guards use drugs in the bushes around the buildings to prepare for the attack on the residents. Further south in Tehran, in Nazi Abad, security forces beat a protester to death before shooting him using a point-blank shotgun. And all of this is happening in an Islamic Republic where the government was supposed to be merciful and compassionate like Allah, whom the ruling clerics claim to worship.
Officials, including clerics, are not expected to lie and deny police vandalism when many social media videos show police destroying people's property. And in self-defense, the the police say they were fake cops on the streets. "Shame on you if the situation is so chaotic that well-equipped fake cops are patrolling the streets. And shame on you if it's real cops destroying people's property and you don't want to take responsibility," said a Twitter user. It looks even worse when some officials claim that these are Israeli agents disguised as Islamic Republic police.
In a similar case involving plainclothes officers attacking, arresting and even shooting protesters, a Twitter user asked: "Nowadays, if we see a man in civilian clothes with guns in a public place, should we assume that he is a terrorist or a security guard in civilian clothes? Who are those who have created an environment also safe for armed individuals?"
Government officials, including the President Ebrahim Raisi and head of the judiciary Gholamhossein Ejei call for dialogue with the nation in an effort to end the protests. At the same time, the same the government suspends one of the main reformist political parties in the countrythat's to say. How can the government tell you that it does not want to be reformed, asked a prominent Iranian journalist.
The government constantly denies reports of its wrongdoings. But few believe such denials. One of the most recent denials came after international media reported that some Iranian officials were leaving Iran and seeking foreign passports to live elsewhere with their smuggled assets and new identities. Following another refusal from Tehran airport, a message on Twitter said: "When they deny a story, it means the news was true."
For a thousand and one reasons, the people no longer trust the government. While state media continues to blame the Islamic State for the attack on Shah Cheragh shrine in Shiraz, people are adamant that it was the Islamic Republic that staged the attack. Meanwhile, many have noticed flaws and production errors in footage provided by state media following the attack. A particular scene that many have noticed shows a "dead" rising, looking at his watch and pretend to be dead again.
And like Iran's foreign minister admitted that Iran gave drones to Russia, but not for use in the war against Ukraine, a comment under his tweet asked: "You mean Russia ordered so many drones for entertainment in the middle of a major political and economic crisis? and another said, ""So you gave the drones to Russia and told them not to use them. Like giving a kid ice cream and telling them not to lick it."