Monthly production of refrigerators and freezers increases by 115% per year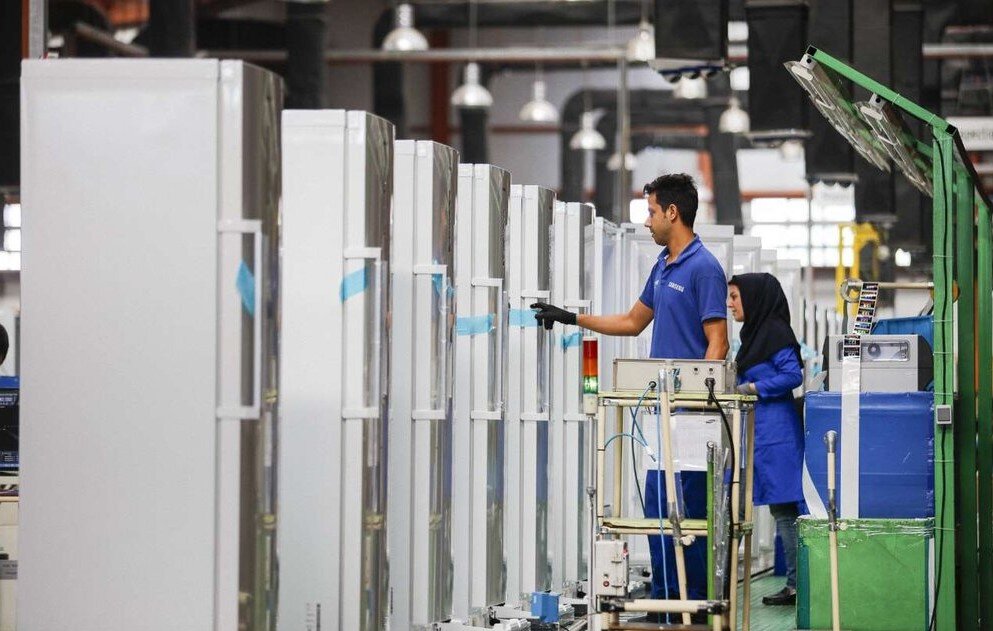 TEHRAN – Manufacture of refrigerators and freezers in Iran in the first month of the current Iranian calendar year (March 21 to April 20) increased by 115% compared to the same month a year earlier, a IRNA reported citing data released by the Ministry of Industry, Mines and Trade.
As stated, 102,400 refrigerators and freezers were manufactured during the mentioned month.
In the first month of the current year, domestic enterprises also produced 68,700 washing machines, registering a production increase of 68.9 percent compared to the same period last year.
The production of water-cooled air coolers also grew by 64.7 percent in the said month, and domestic manufacturers managed to produce 111,800 units of this product.
Last year, more than 15 million units of various household appliances were produced in the country, 78% more than the figure of the previous year, according to data from the Ministry of Industry.
The ministry has on the agenda to further increase the production and exports of household appliances during the current year.
Last week, Keyvan Gordan, director general of the Department of Industry's Bureau of Electricity, Metal and Home Appliances, said $ 200 million of home appliances were exported in the calendar year. previous Iranian (completed March 20).
The Ministry of Industry has targeted $ 600 million in exports for the mentioned sector in the current year, Gordan said.
"This industry has provided 300,000 direct jobs as well as a million indirect jobs in the country and 500 manufacturing companies are currently active in this sector," said the official.
Since the United States reimposed sanctions against Iran to put pressure on the country's economy, Iran has taken all necessary steps to mitigate the impact of the sanctions and counter American actions.
Improving and increasing domestic production has been one of the main strategies Iran has followed over the past two years to increase its independence.
To achieve this objective, providing the necessary working capital to production units and offering them facilities is one of the major measures pursued by the government to support these units in the current year which is called the year of "Production. : Support and Elimination of Obstacles "by the leader of the Islamic revolution, Ayatollah Seyed Ali Khamenei.
EF / MA