Pakistan signs three MoUs with Iran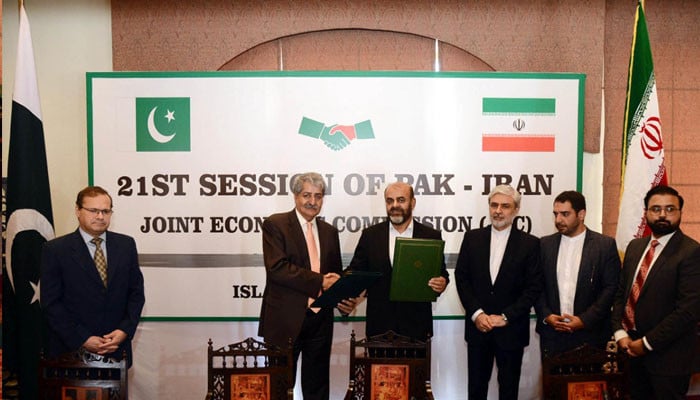 ISLAMABAD: Pakistan on Thursday signed three memorandums of understanding with Iran in the areas of maritime shipping, museums and information dissemination during the second day of the 21st session of the Joint Economic Commission (JEC) between the two countries.
According to an official statement, the Iranian delegation was led by Rostam Ghasemi, Minister of Roads and Urban Development of the Islamic Republic of Iran, while the Pakistani delegation was led by Syed Naveed Qamar, Federal Minister of Commerce of the Islamic Republic of Pakistan.
During the session, the two sides reviewed the provisions of the Agreed Minutes of the 20th Meeting of the Joint Economic Cooperation Commission signed in Tehran on April 17-18, 2017. The technical session, held on August 17, was facilitated by the Ministry of Economic Affairs.
During the closing ceremony of the JEC, the Minister of Commerce said that Pakistan attaches great importance to relations with Iran. "Enough agreements have been signed between the two nations, now is the time to work hard for their successful implementation," the trade minister said. He also pointed out that the Quetta-Taftan road is passable, but to further improve the roads, various projects are underway.
The Minister also expressed the need to facilitate visa requirements to facilitate Pakistani traders and visitors. Furthermore, he assured his counterpart that Pakistan is committed to taking all possible measures to increase the volume of bilateral trade.
"To increase bilateral trade, an additional border crossing point at Gabd (near Gwadar)-Reemdan has recently been commissioned by Pakistan. In addition, the objective of the international transport agreement between Pakistan and Iran is to facilitate commercial traffic from Turkey to Pakistan via Iran, while Iranian goods and passengers can have access to China via Pakistan," Qamar said.
Pakistan would have the advantage of gaining access to other Central Asian republics and Europe via Turkey with the operationalization of the decisions taken at the 21st JEC session, he added. Qamar also said that for the first time in the history of Pak-Iran relations, the two states are creating green corridors to move transit trade without additional customs duties or taxes.
"The project of creating a free economic zone at the borders with the border markets is also under discussion." The minister further thanked his counterpart for offering the 5th freedom tariff to Pakistan, which is a great effort on the part of Iran.
Rostam Ghasemi, Minister of Roads and Urban Development of the Islamic Republic of Iran, informed the meeting that Iran firmly believes in continuing cooperation and strengthening relations by improving the regional pragmatic method to increase the possibilities of strengthening of bilateral relations.