The United States and Germany are closing in on Iran and Ukraine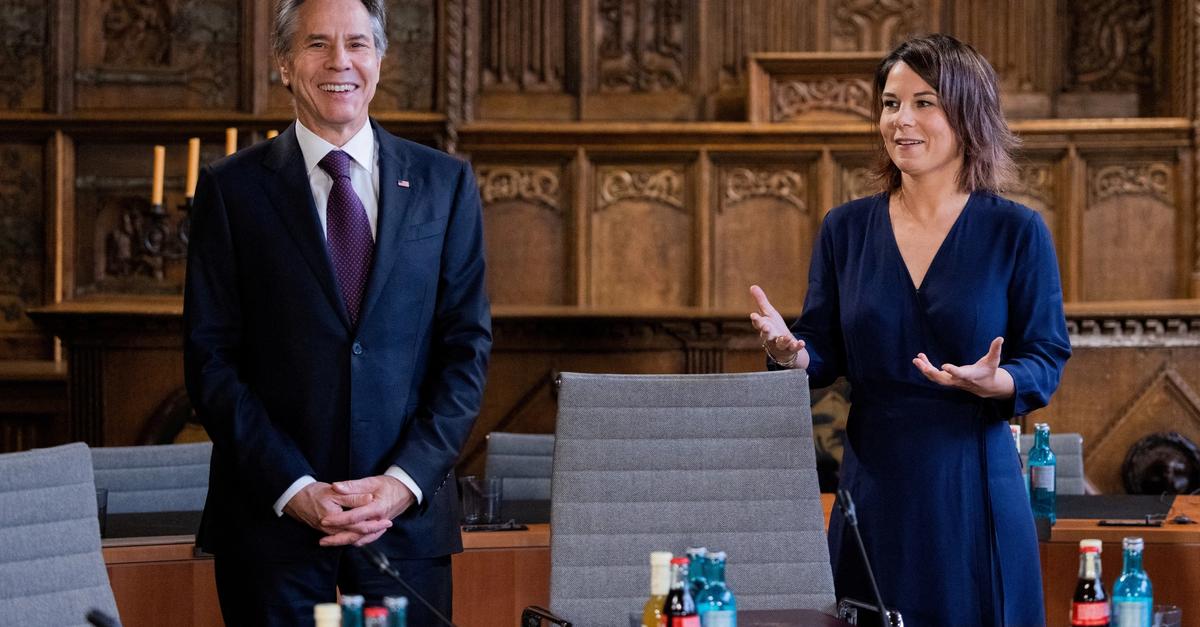 Iran sits in the middle of a packed agenda at the G7 meeting in Munster, Germany, as the bloc grapples with multiple challenges centered on Ukraine.
After tensions under President Donald Trump, the two-day rally that concluded on Friday shows a close relationship between the United States and Germany, which currently chairs the G7 bloc that also includes Canada, France , Italy, Japan and the United Kingdom.
German Foreign Minister Annalena Baerbock of Alliance 90/The Greens has spoken out about protests in Iran since mid-September, and On Thursday, Berlin warned Iranian citizens to leave because of a "concrete risk of being arbitrarily arrested". Another sign of deteriorating relations, veterans of the Iran-Iraq war gathered outside the German embassy in Tehran this week to highlight German companies helping Saddam Hussein with chemical weapons.
At a US-German futures forum on Friday in Munster with Antony Blinken, Baerbock described the US secretary of state, whom she has met ten times since taking office ten months ago, as a friend . Blinken described the "leadership of the German foreign minister as "extraordinary".
Blinken said that in establishing "rules for the use of technology," the United States and Germany must "ensure that the values ​​we stand for…trump." He noted the "vast democratization of information technology" and pointed to recent U.S. decisions to lift any threat of sanctions against those providing Internet access technology to Iran.
Baerbock spoke of online education opportunities she had recently seen in Egypt, where the UN climate conference COP27 begins on Sunday. Germany's foreign minister says the G7 meeting linked IT to "democracy and freedom", which she says underpins Berlin's approach to the EU. 'Iran.
Baerbock pledged to bring "atrocities" to UN bodies and said "democratic economic powers" needed a majority in UN human rights bodies. The United States has called for Iran to be removed from the UN Commission on the Status of Women.
Acknowledging the recent blows to Germany and the European Union's expectation of trade politically bringing states together – which underpins both Russian energy supplies and the 2015 Iran nuclear deal – Baerbock said that "we learned" that was not always true.
Tanks, jets, drones
The United States and Germany, Kyiv's largest and second-largest arms supplier respectively, seem to be on the same page when it comes to Ukraine. Wary of Russian escalation, both resisted calls for advanced weapons, with Ukraine seeking Leopard 2 tanks and Marder armored infantry vehicles in Berlin, and Washington F-16 aircraft.
The United States and Germany, along with France and the United Kingdom, have raised the issue of Iranian-made drones at the UN Security Council, arguing that any supply violates the 2015 Iran nuclear deal and justifies the "rollback" of UN sanctions against Tehran. Given the vagaries of "snapback" and experts disagreements over whether drones as relatively small arms violate the 2015 agreement, the move may be intended to deter Iran from sending missiles.
In an interview in Dubai al-Arabiya published on Friday, Rob MalleyUS special envoy for Iran, said Iran was "embarrassed" because it had become "clear to the world" that it had "sided with Russia and its war of aggression against Ukraine".
Domestic Critic
Another underlying cooperation between the United States and Germany is the shared experience of center-left governments facing domestic criticism. With US aid to Ukraine so far at $50 billion, House Minority Leader Kevin McCarthy last month ruled out a "blank check," and some Republicans the candidates for the November 8 congressional elections are criticism of such support for Ukraine as Americans face rising bills. In Germany, opposition politicians have blamed the 200 billion euros allocated to citizens and businesses due to rising energy prices due to the war in Ukraine.
Another complication facing both German-American relations and the G7 is the rise of China. While the United States has warned other countries against Beijing's involvement in key sectors, German Chancellor Olaf Scholz, a social democrat, arrived in China on Saturday seeking "economic ties as equals, with reciprocity"."China-made parts in globally-made items may include some, alongside European and American components, in Iranian drones, the The Institute for Science and International Security said in a recent report.